STAND UP PADDLE IN KATA BEACH
Stand-up paddle (SUP) boarding is the latest exciting watersport to reach Phuket's coast. It may be new to the island, but stand-up paddle surfing (its other name) has a very long history.
It was used in the early 60's by surfing instructor to teach how to surf to tourists but also to take pictures of them and to have better eyesight of the stretch of water.
Then it disappears from the surfing scenery and reappears in the 2000s with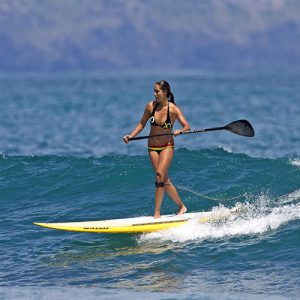 famous surfers such as Laird Hamilton and his friend Dave Kalama that bring it back into fashion. They start to use the SUP when the sea didn't offered them waves to keep training their surf. They also used it on waves to surf as it offers the ability to see approaching swells, because of the higher vantage point, and it is easier and quicker to catch waves. Now, this sport becomes more and more popular as it is more covered with different sports performed with such boards and famous persons using it.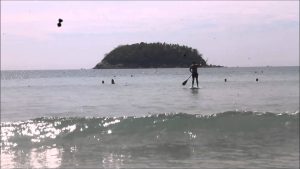 In Phuket, SUP boarding is sure to have a great future. The warm and clear waters surrounding the island are the perfect playground (in high season) to try out this cool nautical sporting activity that doesn't require any outstanding physical capacity or experience. It only needs a few lessons to learn the proper position to keep balance on the surfboard, how to use the long-handle paddle, and how to 'safely tame the potential waves'.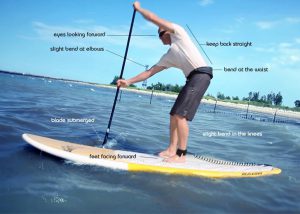 – It's Easy: Select the board and paddle that suits you… Start enjoying after few minutes!
– It's Fun: Up on the board with the paddle in hand, gliding above clear waters, be awed by what you may see from your perch! Above the reef of Kata beach, you will be able to spot various fish and corals.
– It's Fitness: Excellent as a cardio workout, the stand-up paddle is an activity to help you define your silhouette focussing on back and shoulder muscles. In addition, you could pace yourself while paddling. This would improve your stamina, endurance and natural balance.
– It's Convivial: An activity you can choose to do alone or with your friends and family. You could even place a person in front on the light board. Good moments shared while having a good workout!
SUP is a highly versatile sport that can be done in most any water conditions, making it ideal for surfing fans who might find Phuket's wave action to be rather listless most of the year. As well, children and inexperienced paddlers can safely and easily paddle in one of the island's shallow, calm bays.